With a new year, comes a new anime season! Welcome to my Seasonal Anime Preview for the Winter 2017 season. Out of all the LNP hosts and writers, I would say I am one of the biggest seasonal anime fiends. I really enjoy watching anime from a week to week basis, and I get excited for every new week in anime. So I decided to make a seasonal preview for the shows I am excited for. This will be my first time writing a seasonal preview, so let me establish what my plans are for this article and future Seasonal Previews. I will be picking  7 shows from the season that I will be planning to watch(I will be watching more, but for the sake of length, I will pick the anime that stand out the most to me), and give my thoughts on said show and what I am expecting from it. I'll post a link to the website I am using to watch these previews on here ,so you can follow along at home, all of the preview videos will be on that site as well. At the end of the season, I will also be doing a Seasonal Wrap Up, where I will talk about the 10 series that I picked in the Preview, and see how they did for the season. So without further ado, lets get on to the list!
1.Rewrite 2nd Season: Moon-hen / Terra-hen
Genre: Action, Fantasy, Magic, Romance
Studio: 8bit
Synopsis:Second season of Rewrite covering the Moon and Terra routes of the original game.
My Thoughts: So as some of you may know, I absolutely LOVE Rewrite. It was one of the very first visual novels I ever read and one of the most impactful. After reading it in 2013, I prayed and prayed to the anime gods to give me an anime adaptation, and three years later, they answered my prayers and gave me the adaptation I've been wanting for so long. I really enjoyed the first season, but it wasn't necessarily a masterpiece. There was some pacing issues and some things were lost in translation, but overall I thought the first season was pretty okay. The Moon and Terra Routes that will be adapted are the main routes in the game and are pretty exciting, so seeing it animated will definitely be a treat for me.
My Expectations: I think it will be a decent show, if you liked the first season you will probably enjoy this season. It will be a lot better if it is going to be 24 episodes, but most likely it will be a 12 episode season, which has a possibility of working. But overall, I'm really looking forward to Rewrite 2nd Season, I think studio 8Bit did a pretty good job adapting Rewrite, considering how difficult the task is (Separate routes with little connection, 30,000 lines of text).
TLDR: Pacing will make or break this season.
2. Masamune-kun no Revenge
Genre: Comedy, Harem, Romance, Shounen
Studio: Silver Link
Synopsis:
As a child, Masamune Makabe once suffered greatly at the hands of a wealthy and beautiful girl named Aki Adagaki, who nicknamed him "Piggy" due to his chubby appearance. Seeking revenge against his tormentor, Masamune works hard to improve himself and returns as an incredibly handsome, albeit narcissistic, high school student. When he encounters Aki once again, he is prepared to exact vengeance.
With the aid of the rich girl's maid, Yoshino Koiwai, Masamune slowly begins to build his relationship with Aki, intending to break her heart when the time is right. However, as his friendship with Aki begins to grow, Masamune starts to question the objectives of his devious plans, and if bringing them to fruition is what his heart truly desires.
(Source: MAL Rewrite)
My Thoughts: So at first glance, I thought this was just going to be a kind of generic harem anime, and to some people it probably still is even after reading the synopsis, but I think the premise of falling in love with someone how you view as an enemy is pretty interesting. The question of what the heart truly desires is such an interesting topic that I don't really see many anime explore. I know that it won't be as serious as I'm making it sound, it will most likely be more comedic, but I think that they could really There's potential to have some good character development on both Masamune's and Aki's parts. Also judging from the preview,  the anime looks quite funny and the animation and the character designs are very clean and aesthetically pleasing.
My Expectations: I think this show will be good at best, mediocre at worst. I have a lot of faith in Silver Link and I think they can make a pretty good adaptation out of this. If the show devolves into dumb harem shenanigans it will probably fail, but if they manage to really establish and flesh out the relationship between Masamune and Aki, I think the show will be pretty good and pretty enjoyable.
TLDR: Watch for the relationship between the 2 main characters.
3.Demi-chan wa Kataritai
Genre: Comedy, Fantasy, School, Seinen
Studio: A-1 Pictures
Synopsis: Monsters of legend walk among us, going by the name "demi-humans." Ever since he's discovered the "demis," one young man has become obsessed with them. So when he gets a job as a teacher at a high school for demi-girls, it's a dream come true! But these demis, who include a rambunctious vampire, a bashful headless girl, and a succubus, have all the problems normal teenagers have, on top of their supernatural conditions. How to handle a classroom full of them?!
(Source: Kodansha Comics)
My Thoughts: There's a lot about this show that I really like. First off, it looks really cute. The show is really visually appealing to me, and the designs for each of the "demi-human" girls are very cute. Especially the vampire, probably found the best girl of the season in this one. Another thing that really makes me excited to watch this show is that it's very reminiscent of another show I really enjoyed; Monster Musume. It depicts inhuman characters in very human situations, which can result in some good laughs. However, the synopsis makes it sound like this show will actually be taking it a little more seriously than MonMusu, dealing with each character's issues as teenagers and young adults. And lastly, it's being done by A-1 Pictures. For those who don't know this about me, I'm usually always watching something from their studio every season. Often they fail to make a good and interesting show, but they have made some really good gems in the past with Saekano, Silver Spoon, the Working series, and the music video for Porter Robinson's Shelter; which I wrote an article about (which if you haven't read, you can read it here).The fact that some of their shows can be a diamond in  the rough and/or immensely popular, makes me want to watch their new shows every time a new season rolls around.
My Expectations: Given that this is an A-1 Pictures anime, it has the chance to be an enormous flop. It could honestly be one of the worst anime this season if they don't execute correctly. Although if they play it right; develop each character well, prevent animation flubs;make sure the pacing is on point; then Demi-chan wa Kataritai will be a great show. I'm not going to super over-hype this show, but my expectations for this show are pretty high. I really want this to be good and enjoyable, but we'll have to wait and see.
TLDR: Protect this smile A-1.
4.Kuzu no Honkai(Scum's Wish)
Genre: Drama, Romance, School, Seinen
Studio: Lerche
Synopsis: 17-year-old Awaya Mugi and Yasuraoka Hanabi appear to be the ideal couple. They are both pretty popular, and they seem to suit each other well. However, outsiders don't know of the secret they share. Both Mugi and Hanabi have hopeless crushes on someone else, and they are only dating each other to soothe their loneliness. Mugi is in love with Minagawa Akane, a young teacher who used to be his home tutor. Hanabi is also in love with a teacher, a young man who has been a family friend since she was little. In each other, they find a place where they can grieve for the ones they cannot have, and they share a loneliness-driven physical intimacy. Will things stay like this for them forever?
(Source: MangaHelpers)
My Thoughts:The concept of this anime, is one I really have not seen before. Being together, but at the same time being so alone. The amount of potential feels trips this anime has is actually crazy. I feel like the issue addressed in this anime is an issue that is really not touched upon in anime. Usually we only see the cutesy side of romance, but this takes an interesting spin and takes a look at a twisted version of the romances that we perceive as so familiar and commonplace in anime. The relationship between Mugi and Hanabi will be extremely interesting to watch and see how it develops, as their romance is very emotionless and physical. The animation looks crisp, character designs are really good, excellent voice acting, this anime looks really, really good. I also hear a lot of praise for the source material, which makes me excited to see if they can adapt it well.
My Expectations: Call me crazy, call me a hype monster, call me whatever you want, but this has the potential to be the best anime this season. Like I said above, the concept of being together with someone, yet feeling empty and alone inside is such a unique and interesting twist on a contemporal romance show that, if executed well, will be a treat to watch. I'm super hyped for this anime.
TLDR: Watch this show. Like actually. WATCH IT.
5.Akiba's Trip The Animation
Genre: Action, Adventure, Ecchi, Supernatural
Studio: Gonzo
Synopsis: Set in Akihabara, the shopping area has been invaded by creatures known as "Synthisters" who prey on the patrons of Akihabara, feasting on their social energy and will to live. These enemies can only be stopped by direct exposure to sunlight, meaning to defeat these synthisters their clothes need to be ripped off exposing them to sunlight.
(Source: MAL Rewrite)
My Thoughts: I bet you were expecting something about this show being super deep and super impactful and stuff like that, but to be honest, I'm watching this show for one reason:the E C C H I. This show looks like it will be a lot of fun to watch not just for eye candy, but for general silliness as well. Comparable to this season's Keijo!!! , Akiba's Trip looks like it will be so absurd and so weird, that it will be a treat to watch. I have played the games before, so I am already quite familiar with the world of Akiba's Trip, but that won't make my experience lessened, in fact that might make my experience better. The show almost looks like something out of Trigger with how over the top and bizarre it is, which is pretty cool.
My Expectations: I wouldn't be surprised if this show bombed. But I also wouldn't be surprised if people enjoyed it simply because of it's quirks and general weirdness. Either way, I'm probably going to enjoy watching this show, good or bad, but my expectations for this show a fairly low.I don't think we are gonna get an Anime of the Year contender with Akiba's Trip, but I'm gonna enjoy watching it at least.
TLDR: I'm a pervert.
6. Little Witch Academia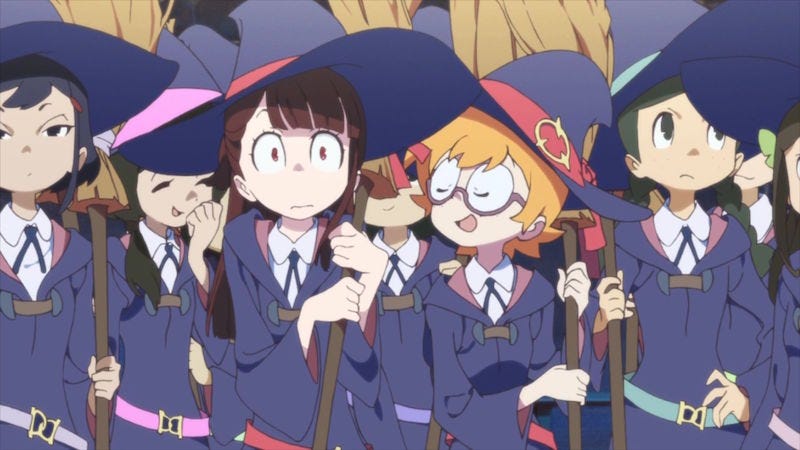 Genre:Adventure, Comedy, Fantasy, Magic, School
Studio: Trigger
Synopsis: The story revolves around Akko, who as a child watched the witch Shiny Chariot perform a show, and from then on dreamed of becoming a witch. She enters the Luna Nova Academy, a school for witches that Shiny Chariot attended. In this new town she meets new friends and starts a new school life. At the school she has lessons on riding brooms and the wonder of magic, but Akko and her friends Lotte and Sucy keep getting wrapped up in tumultuous events.
(Source: Anime News Network)
My Thoughts:I loved the original Little Witch Academia, I thought it was really cute, really funny, and really quite enjoyable. For those who don't know, Little Witch Academia was originally a short film born from the Young Animator Training Project, or Anime Mirai, where studios trained new animators and made a single episode anime. Little Witch Academia was created under the newly formed studio Trigger, and is one of their best works in my opinion.I thought the original was really cute and a lot of fun to watch.I'm really interested to see Akko grow as a character and see how she interacts with the rest of her quirky classmates as well. I'm really looking forward to a little more exposition and exploration of the world of LWA, and I really hope that this is successful.
My Expectations: So I'm not exactly the biggest fan of studio Trigger. I don't question their passion for making anime because it's very clear that they animate because they love doing it, but sometimes I really question that love, because I see some really dumb animation mistakes in some of their anime.Despite Trigger's history, I'm setting my expectations for this pretty high. Trigger has really been improving over the past 2 years and I want them to prove to me that they can be a solid animation studio. If i see any PowerPoint looking animation, or some terrible CGI, I'm gonna be really upset. I think this is another Anime of the Season contender, and I really hope it's done right.
TLDR: TRIGGER PLEASE I'M BEGGING YOU
7.Seiren
Genre: School, Romance
Studio: AXsiZ x Studio Gokumi
Synopsis: The anime is an omnibus work that will consist of four-episode arcs focusing on each of the main heroines. The three planned story arcs will focus on Hikari Tsuneki, Touru Miyamae, and Kyouko Touno. The love stories take place in the summer of the main characters' second year of high school. The protagonist Shouichi is anxious about growing up, and his homeroom teacher calls him to talk about his career plans. Shouichi meets various girls and heads to an unknown future.
(Source: Anime News Network)
My Thoughts: I really don't know what to think about this anime. It's an original work but not an entirely new concept. We've seen the omnibus format before in Amagami SS, which was a weird show to watch. The fact that it is an original work, not based off of any original source material is what really makes this show a wildcard for a couple of reasons.One, you don't really see many original works anymore, most anime these days are simply adaptations of source material. The fact that it is an original anime could either hurt the show or really improve the show.It could hurt it if the story does not really have a set direction, and could create a confusing and/or bad story. On the other hand, it could bring something fresh and entirely new to the table, which would really enhance the viewing experience. The studios working on it are also a little weird. I've never heard of AXsiZ and Studio Gokumi hasn't really put out anything really solid in recent times, at least in my opinion, but judging from the previews, the animation looks really solid. This show kind of takes me back to my roots when I started watching anime, because I started with the high school romance anime, and this is very reminiscent of those.
TLDR: Looks like it might be an interesting romance show.
My Expectations: I think this show will be very interesting to watch. The animation looks very pretty, the premise seems okay, and the structure of the show is tried and true. This show could either contain too many tropes seen in the romance genre, or it could be something totally different. Regardless, I'm going to give this show a shot, I've been saying for a long time that I've been looking for an interesting romance show, and Seiren could very well be it. For now though, I'm gonna keep my expectations to about a medium level, not expecting too much, not expecting too little.
And there's my list of 7 anime from this season that I will definitely be watching. What are you watching this season? Did you agree with any of my thoughts/expectations after watching the previews? Did you enjoy this seasonal preview and would you like to see more? You can tweet at me at @_SaberJ_ for any feedback or just comments on this article, anything would be appreciated!
Thanks for reading,
Mecha